(800) 660-5470
(724) 222-5470
462 Washington Road
Washington, PA 15301
contact@acesportinggoods.com
Directions from Pittsburgh:
Take I-79 South to I-70 East, travel one mile to exit 19B, Follow RT
19 North for 3/4 mile, Store is located on right side of highway,
first driveway past Gabriel Brothers Plaza. Store has Red and White
awnings.
Or follow RT 19 South to Washington approximately 16 Miles from South
Hills Village. Store is located on left hand side of highway. A
U-turn is permissable at the traffic light above our business.
Directions from West Virgina (Wheeling Area):
Take I-70 East to exit 19B, follow same directions as above.
Directions from West Virginia (Morgantown Area):
Take I-79 North to I-70 West, approximately 2 miles, take exit 19B and
follow directions from above.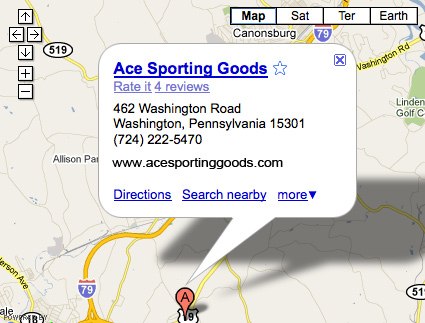 Have a question for us? Ask it below and a member of our knowledgeable staff will get back to you right away!